Today I started an 8 day detox. This is not your normal detox. It is more to curb cravings and restart the way that I eat. The portions I eat are WAY too big and I need to cut it back. I can exercise all day long but if I don't start eating right I'm never going to lose the weight that I want to lose.
So for 8 days I will cut out of my diet, sugar, dairy, wheat, red meat and diet coke. You eat 3 decent size meals with NO snacking in between. Honestly the hardest part is going to be no diet coke. I'm insanely addicted and I've tried to stop drinking it multiple times and I've failed every time. But I have never been so determined. If I'm ever going to lose this weight I need to do it now.
Here I am on day one. I haven't had any diet coke.. I've only had to take pain killers once. I'm actually doing pretty good. But I can't get ahead of myself.
For breakfast I had two hard boiled eggs. For lunch I had this amazing quinoa salad. I will post the recipe at the end of this post because it is seriously amazing. Then for dinner I had a salad with grilled chicken, cucumbers, tomatoes, and peas. It was delicious.
And we cant forget, LOTS AND LOTS of water!!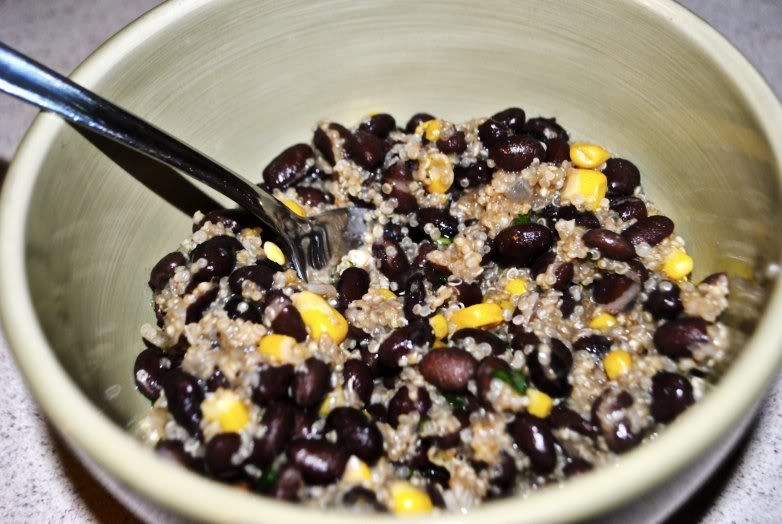 Ingredients ::
1 1/2 cups chicken or vegetable broth
1/4 teaspoon cayenne pepper
1/2 teaspoon freshly ground black pepper
2 (15-ounce) cans black beans, drained and rinsed
1/2 cup cilantro, chopped
Directions ::
In a medium pot, heat the olive oil over medium heat. When shimmering and hot, add the oinions and saute for 4-5 minutes, stirring often. Add the garlick and stir for a minute or two until the garlic is fragrant, being careful not to burn the garlic.
Add the quinoa and cover with broth. Stir in cumin, cayenne pepper, salt and pepper. Bring the muxture to a boil. Cover, reduce heat and let simmer for 20 minutes (or until all the liquid is absorbed).
Stir in the frozen corn and black beans. Cover and let the pot sit off the heat until the corn and beans are heated through, about 5-6 minutes. Stir in the cilantro. Serve warm or chilled.